Your trusted digital innovation partner
A Canadian leader in high-end automotive dealer digital solutions, D2C Media is your trusted partner for delivering performance and complete transparency. With a core focus on digital sales, Websites, Digital Advertising, automotive CRM and Virtual BDC services, we strive to continuously help dealers maximize their return on investment.
We believe that dealers should leverage their data to make it a competitive advantage and we partner with an ecosystem of over 100 inventory syndication partners, most CRM's, DMS', Digital Retailing solutions, Credit and Trade solutions to provide a fully integrated solution to meet your specific needs.
Package Details
Enroll
---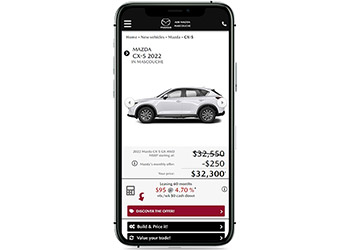 MOBILE FIRST - ULTRA-FAST HEADLESS WEBSITES
In today's mobile-first world, speed matters. That's why D2C Media completely rewrote its mobile site platform from the ground using the most recent headless architecture to deliver the fastest user experience in the industry. Tested against 3,200 Canadian franchise dealer sites from 22 vendors in June 2022, D2C sites ranked #1 in complete page load speed time and were on average 2.5x faster than the top-5 vendors in the market.
---
SUITE OF DIGITAL RETAILING TOOLS
Now more than ever consumers are looking to complete most of their car shopping online. But your website visitors are all at different stages of their purchasing journey, which is why D2C Media's digital retailing solution is not focused on the typical "buy now" end goal, rather, we offer visitors the following tools and options to help them along their journey:
Showroom images & data along with matching inventory
Full mobile-optimized build & Price
Trade-in value based on Canadian Black Book
Credit Score & Credit Application
Lease and Finance payments calculator including all OEM offers and incentives.
Auto-Zoom feature in image carousel
Transaction Builder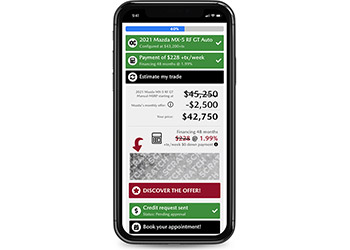 ---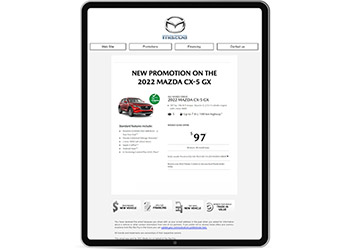 AUTOMATED MARKETING
Our websites generate hundreds of leads monthly so it can be a daunting task to follow-up with all the leads each month while also complying with CASL requirements. This is why D2C Media developed its own proprietary automated marketing platform allowing dealers to easily send emails to customers automatically using pre-configured templates linked to their website assets. No need to import and export lists from 3rd-party emailing tools such as Mailchimp anymore!
Pre-configured emails using the dealer's look & feel
20+ pre-built dynamic templates ready to be sent
Mass email tool
Import tool to easily import your email list from your DMS
---
CMS : EASY-TO-USE AND POWERFUL
1-click feature activation
Over 300 customizable elements
Drag & Drop responsive page builder
Advanced group and multi-rooftop inventory sharing features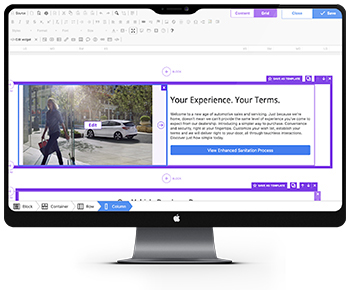 ---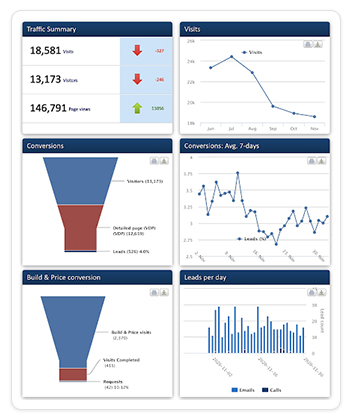 DASHBOARD
Easily access your stats, website CMS, inventory, and Media performance metrics within a single interface.
We integrate stats from Google Analytics, Google Ads, Facebook Ads and your DMS and present the results visually in simple graphs so you don't have to interpret results from 5 different platforms.
Compare your site against as many other competitors from D2C Media as you wish. 100% secure and anonymized to allow you to benchmark and continuously improve.
---
ADVANCED INVENTORY SYNDICATION
Full VIN decoding
Syndication to and from 100+ partners
Hand-pick vehicles to be exported by media
Full Facebook Marketplace integration with alerts
New inventory alerts
Window sticker manager
Price change historical log
Video integration
Fast and easy photo management
V-Auto integration
CARFAX integration
Manage the columns you need in reporting
Easy search by stock, VIN, Make, Model, Year, Options and more.
Multi-dealer view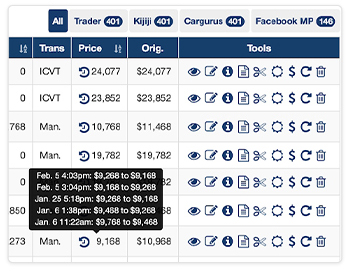 ---

DIGITAL CAMPAIGN TO STORE VISITS AND SALES ATTRIBUTION
Integration with your DMS to track digital campaign performance without human intervention.
All digital efforts can now be optimized based on real metrics that matter to dealers: In-store visits and sales as opposed to the traditional impressions, clicks and leads.