Leave it to your customers to book their service appointments, on your website, at their leisure.
Shift the power over to your customers by letting them book their service appointment according to their own schedules. Elevate your customer experience, bring more traffic to your service bay and boost visits to your website with our Online Appointments Module!
Package Details
Enroll
---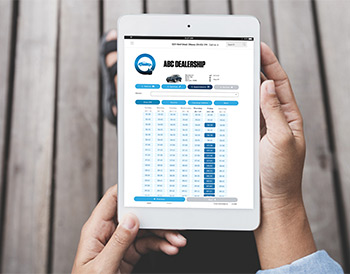 Online appointments made easy
Start the customer experience at the very beginning with the ability to schedule appointments on your website, choosing from available dates and time slots, right from a computer or mobile device and in real-time! Available 24/7, 365 days a year!
The Online Appointments Module includes:
Individual services
Repairs
OEM promotions.
No need for a third-party application. Service Appointments scheduled directly in your Keyloop Serti DMS in real-time! No delays or data transfer issues! Streamline and accelerate the process for your Service department.
Integral part of the system; no API, no syncing
No OP Code Mapping required 4
Set your own parameters
Scheduling controls
Multiple Appointment Books (e.g. per Advisor, Body Shop, Quick Lane...)
Match the colour theme to your website
SERTI is now part of Keyloop.